Obama wins re-election Crowds celebrate outside White House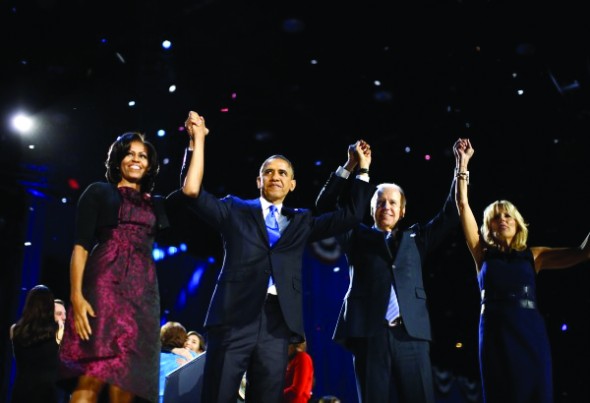 Barack Obama and Joe Biden celebrated their victory Tuesday night with wives Michelle Obama and Jill Biden.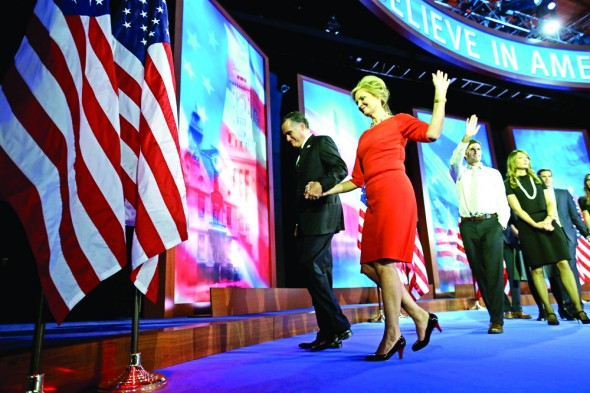 Romney exits the stage at his party with his family after making his concession speech on Tuesday night.
On Tuesday night, America re-elected President Barack Obama over his challenger, Mitt Romney, former Governor of Massachusetts. This election season brought up several issues for government officials.
Obama received 303 electoral votes, while Romney only accumulated 206. Popular votes showed a much closer race, with about three million votes' worth of difference. Obama has 60,893,249 votes as of the latest CNN election results, while Romney has 57,956,903 votes.
President Obama made a victory speech on Tuesday night shortly after Fox news officially reported that the state of Ohio went for him, which clinched his victory. Obama took the podium with his entire family around him and the crowd waving American flags in support of their newly elected Commander-in-Chief. Obama took in the moment, allowing the crowd to cheer for almost a minute.
Obama spoke of bi-partisanship, job growth and education, and mentioned the health care law.
"The best is yet to come," Obama said.
Oswego County raked in 21,733 voted for Obama, set a 53 to 45 percent victory in the county for Obama. In Onondaga County the margin was bit larger with Obama gathering 60 percent over Romney's 38 percent.
"The city is a big part of it," chairman of the Onondaga County Republican Party, Tom Dadey said. "The last time [the county went red] was in 1984 to elect Ronald Reagan."
Republicans in this area have struggled to get the vote. Three out of the four counties in the 24th Congressional District went blue, including Oswego County. This is a strong indicator of the area's support for Democrats.
Dadey stated that he was surprised by some unexpected results but also pleasantly surprised by others.
"Presidential elections are tough," Dadey said. "We have a long night ahead."
A member of the GOP in Onondaga county broke down in tears after news of Obama's re-election.
"We just can't beat him," she said, as her friends consoled her.
The mood was somber on the GOP side. Romney conceded soon after he lost Ohio. In his speech, he was stoic and showed his professionalism.
Without a doubt, Obama has a lot to do with the next four years and he is already starting by making attempts to unify Congress in a more efficient manner than has been tried during the past four years.
"I firmly believe he will be more hands-on with policy than he was in his first four years," Richard Stein, president of the Young Democrats club at Oswego State said in an email. "He will have to compromise with Mitch McConnell and John Boehner."
Obama's job initiative is a great fit for the Oswego area.
"Jobs in information technology, energy development and manufacturing," Stein said. "Oswego is the prime location for all three. We have something not many other places have: our own fresh water port."
Stein says that simple changes from shipping by truck to shipping by boats on the lake will create many jobs in the Oswego area. Stein adds that all of the jobs Obama would like to initiate are those that are ideal for Oswego, which already has the help of the university to boost those in the fields of science, technology, engineering and mathematics.
This election win is grand for the Democratic Party.
"Without re-electing Barack Obama, the Democratic Party and then things we stand for would be incredibly vulnerable," Stein said. He adds that most if not all of the progress of the first four years of Obama's presidency would have been lost if the Republicans took control of the White House.
Obama hopes for bi-partisanship and expects to meet with Romney in the coming weeks. He shared a phone call with the majority and minority leaders to enforce the urgency of bi-partisanship. He is open for compromise, something Stein feels is certain, since he does not need to look for re-election in 2016.
"The President is not running again. He does not need polls to tell him what to do," Stein said.